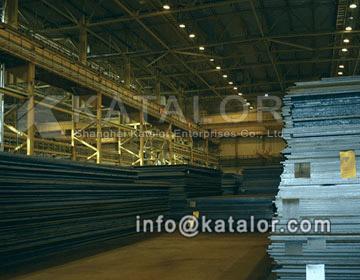 EN10025 S235JR belongs to a kind of non-alloy structural steels according to European standard.S235JR steel plate is mainly used in Civil engineers and national constructions and also demands heavily, In Chinese standard, Q235B according to GB is equal to S235JR steel.
S235JR specification:
Plate steel: 0.1mm to 4000mm
Width: 10mm to 2500mm
Length: We can supply any length based on the customer's requirement.
EN10025 S235JR steel plate are used in marine engineering, chemical processing, hydro-carbon processing, heat exchangers, values manufatucturing, pumps manufacturing, petrochemical plants, nuclear power projects, oil; gas equipment manufacturing and shipped to USA, Oman, Saudi Arabia, Qatar, Kuwait, Turkey; Singapore.
Each order is packaged according to the customer; standards including preparation for export such as wooden case, pallet or according to customer;s requirement all shipping documentation is provided for S235JR steel plate delivery from mill to customer.
Every assignment begins with a visit of our experienced sales representative who assesses the volume weight of the belongs and brief the client about the nature of packing required as well as various documentation formalities when moving from India.
Shanghai Katalor Enterprises supply S235JR steel plate to various countries. If you have any need of S235JR steel plate, we will send you the sample of S235JR. please contact us for inquiry.
Request for Quotation
无法在这个位置找到: footer-p.htm