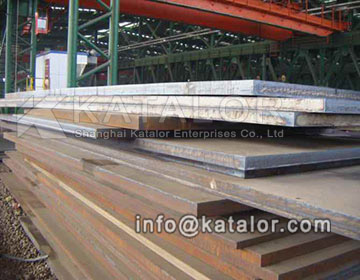 50Mn2V belongs to the alloy structure steel plate, after heat treatment has good matrix strength, wear resistance and welding performance, good surface quality, good shape, size precision, high degree of accuracy.
50Mn2V steel plate commonly used to make the blade base, light mold, spring, etc..
50Mn2V Saw Blade And Spring Plate Chemical Composition Analysis

Grade

Chemical Composition Analysis /% (≤)

C

Si

Mn

P

S

V

50Mn2V

0.47~0.57

≤0.25

1.40~1.80

≤0.025

≤0.025

0.08~0.16
Available Size: T: 4.5mm--30mmW: 1600mm--4100mm L: 2000mm to 12000mm
Delivery state: hot rolled, cold rolled
Our services:
1. Accurate quotation, to reduce purchasing cost for you.
2. Timely communication, allowing you to monitor the entire production process and the progress.
3. Superior quality, letting you go through the inspection of steel and supervise the quality of the finished products
4. Considerable transportation ,helping you to reduce the transportation cost and let you know the circumstance of the transport at any time.
5. Insurance of quality, making you get the original factory warranty for you as soon as possible , and letting you carry out the producing and working plan in the next step .
6. High-quality after-sales, helping you to get the invoice as soon as we can and provide advice and support in billing management.
7. Subsequent tracking service, offering feedback to the steel mill, and making our service more considerate.
We are specialized in supplying steel plate in 50Mn2V from stock or directly from the mill to customer destinations on a global footing. Whether you want the knowledge of 50Mn2V steel plate or want to buy our 50Mn2V steel plate, please just contact us by email or call us .we will reply you within 24 hours
Request for Quotation